Thinking of Financing? 5 Great Reasons Why You Should
At Childforms, we have playgrounds of shapes and sizes to help our clients create their perfect playground. We offer Quick Ship structures and complete playground packages that can ship in as few as 5 days with payments that start as low as $297/ month (*Upon Approval). We have all the playground amenities that you could possibly imagine made with high-quality American steel. We also offer dog parks that make every dog and dog owner happy, playground borders, shades & much more. 
With Childforms financing, our ultra-affordable playgrounds are within the fiscal reach of any size organization from schools to HOAs and apartment communities. We know that finding safe and fun commercial-quality playgrounds is a large investment and with starting prices beginning around $12,000 coming up with the initial capital can be challenging. This is why Childforms has partnered with Navitas Credit Corp. to help you out with flexible payment plans to help you get started today!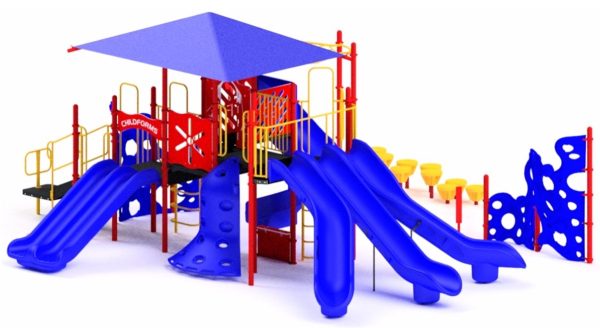 Why Should You Finance Your Playground?
There are many great reasons to think about financing your playground including:
With financing, you can get more playground and more amenities with your budget. Maybe your organization has a certain amount of capital they have raised but it is not enough to cover the full cost of the playground you really want. With financing, you purchase your playground or help pay for things such as installation and playground surfacing or playground shaded. You can also consider getting amenities such as benches, tables, trash cans, bikes rakes, and more!
Preserve Your Credit Line & Non-Credit Liability Keeping your credit score high and keeping your organization in good credit standing partially depends on your available credit. By utilizing Childforms' credit partners, you are keeping your credit lines open for other needs and emergencies.
Many Tax Benefits Typically, the interest charged in a formal financial plan is tax-deductible for most non-profit organizations. At the end of the year, these tax benefits are crucial to lowering your overall tax bill. You will also be able to use your playground as a capital investment thus helping you with amortization of your playground. A true win-win.
Quicker Purchasing & Installation Sometimes fund-raising can take longer than expected and it can become frustrating to have to wait to get the playground ordered and installed. Financing allows you to combine the capital you have raised and go ahead and order the playground you want quickly.
Payment Plans To Fit Your Budget Working with Childforms and Navitas Credit Corp. allows you to have a flexible payment plan that works for your organization. You know your budget and needs and our team here at Childforms is here to work exclusively with you to help you get the best and most affordable playground available.
There are so many great reasons to invest in our made in the USA commercial-quality playgrounds. At Childforms, we have specialized in helping everyone get safe, affordable playgrounds that kids and families have loved for over 25 years. We are based in Mooresville, NC, and have installation partners across the entire United States to help you with anything you need. We offer professional-grade, ADA-Compliant playgrounds, playground shades, playground amenities, Gaga ball pits, and Funtimber Border solutions with personalized customer service just by calling 1-800-447-3349.