ADA-Compliant Playgrounds With Childforms
Kids love playgrounds. They play several critical roles in the development of young people including opportunities to grow their imagination, increase physical strength, and learn safe social practices. Childforms has dedicated themselves to creating systems that are all-inclusive with a strong implementation of ADA-Compliant access systems and playground play structures. 
Several years ago in March of 2012, the American Disabilities Act (ADA) required that playgrounds were to be designed with access available to all children. With this passage of legislation, ADA-compliant playgrounds began to be the norm and look completely different than older play areas. New compliant playgrounds include several features such as:
Accessible ramps with barrier-free travel routes
Appropriate surfaces around the playground
Playground elements that are accessible to all people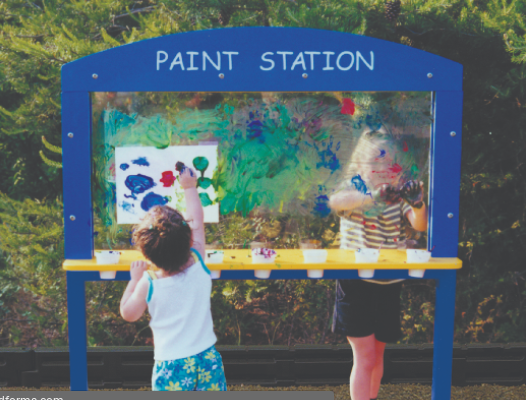 Play elements can include swings, slides, spin options, ground-level components & elevated components.
Childforms feature a unique Funtimber ADA-Compliant wheelchair ramp that is highly durable, cost-effective, and super easy to install with our Funtimber playground border system. The ADA ramp provides convenient access to the playground and helps to establish a clear entry-exit point to your playground. Each ADA ramp system includes (1) mounting log, and the necessary spikes for anchoring and takes the place of (1) Funtimber™ around your play area border. The full 8", 9" and 12" ADA Wheelchair ramps include an entrance and exit ramp.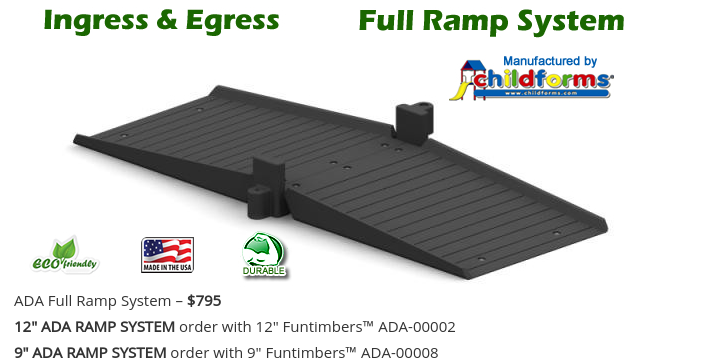 We also carry a full line of other ADA-Compliant play components and amenities including swings, ground-level & elevated pieces.
Here at Childforms, we understand the power of play and the importance of creating systems that make our ultra-fun playgrounds available for people regardless of their situation. Our exclusive playground elements and our simple access systems bring fun to everyone. With our Quick Ship playground structures that ship in 10 days or less and our financing for playground packages beginning at $247 a month with approved credit, Childforms is a no-brainer. Give us a call at 1-800-447-3349 to talk with our expert team of playground professionals to get started today!