Perfect Playground Border Solutions With Funtimbers
Our playgrounds are made for easy assembly with quality components that can last a lifetime. We also offer in-house customer service that is here to help you from your first phone call to design help, free quotes, and help with any modifications you may want or replacement parts that you may need. Childforms takes great pride in helping you have the playground that the kids will love while keeping them safe. From our shade structures to our complete series of ADA-compliant components, Childforms has for you at affordable prices!
Eco-Friendly, Budget Friendly, Free Freight Funtimbers Playground Borders
One of our featured items is our Funtimbers™ playground borders. "Funtimbers™ by Childforms® is the original, industry-leading solution for playground construction and surface retaining. Funtimbers™ offers the most affordable and easy to install playground borders on the market today. Each border ships our patented snap-in spike attached and ready for use."
Funtimbers™ is super easy to install and made from extra heavy-duty plastic that is made to withstand years of inclement weather while maintaining an attractive look.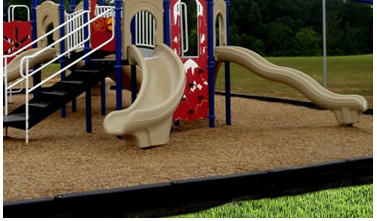 Benefits of Funtimbers Playground Borders
➡ Rounded corners make them safe for all kids
➡ The most cost-effective, easy-to-install retaining system for your playground. Funtimbers™
➡ The Retro-Fit System contains two retro-fit ends and two filler ends. By using the retro-fit ends you can customize perimeter lengths. To use, simply cut the Funtimber™ to length and insert the retro-fit end. You get a finished appearance, which can be flush mounted to existing walls, fences, etc.
➡ Quick, Easy Installation
➡ Full-Line of ADA-Compliant Components
More Than Just A Playground Border
While most people order our Funtimber Borders to complete their playground before adding a playground loose-fill, we often get orders for people wanting to create a super easy raised garden bed or a perfect sandbox. Funtimbers can be used for so many things and the beauty of Funtimbers playground borders is that their durability and ability to be easily moved makes them a very attractive solution to any need you can imagine. They are lightweight and can be reassembled as many times as you would like.
Give Us a Call to Learn More
Ready to learn more about Funtimbers playground borders or Childform's huge line of playground products including Quick Ship structures? Give us a call at 1-888-447-3349 to talk to one of our team members or visit www.childforms.com to learn more. As always, we look forward to hearing from you!